Exploring Montalcino - a top newcomer in Montalcino's 'grand cru'
It's rare to find an undiscovered gem in a famous wine region like Montalcino, especially one as good as this from a top vineyard. I'm very excited.....
Montosoli is regarded by many Italian wine critics as the elegant soul of Montalcino due to the ethereal wines made by a few highly sought after producers such as Le Ragnaie, Altesino, Baricci, Canalicchio di Sopra and Il Marroneto. At high elevation and surrounded by forests, with red and white marl and clay on ancient sandstone full of seashells, these wines are recognisable for their high acidity, lower alcohol and fine mineral tannins. Really, it's a bit like a Burgundy premier or grand cru even, and the wines have some similarity too - extremely elegant, lifted and bright, and with good structure.

We were tipped off about the wines of Fattoria del Pino by a couple of top fellow Montalcino producers who say this is what they and their friends are drinking. As ever, timing and a bit of good fortune was involved, as owner and winemaker Jessica could have already sold her wines a few times over to a number of international importers who have been courting here and who will gobble up anything they can from the vineyard of Montosoli. But she was looking for the right importer to come along, and luckily for us, after a couple of visits to Montalcino, it's happened.

The wines come from around 420m elevation, in the west-north west of Montalcino. So far, she has just 1.5 ha planted, with a further 3.5 to plant in the coming years.

In Montosoli, the wines have structure in the first place, and they need to be handled extremely gently. Jessica does a maceration to bring out flavour, but does not push for extraction and more body and tannins. The wines are beautifully ripe and extremely elegant.

Drinking both her Brunello and Rosso over several days is very special indeed. Both have just the finest hint of umami and dusty earth, coated in beautiful fruit. The Brunello is a bit fuller than the Rosso - and just slightly more juicy and elegant, but there isn't much in it, although there's no doubt the Brunello has that effortless V8 engine. The Jeccardo is a Rosso di Montalcino, same grapes, same vineyard, that has been aged a couple of years longer than usual and shows just how good and beautiful it can be.
Related Articles
Sadly it's not all exciting new discoveries in the wine trade. Sometimes it's some rather less fun things, like the recent duty reform brought in from 1st August 2023.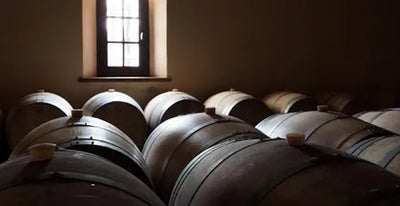 We all know oak barrels and stainless steel tanks. But when it comes to making and ageing wine, there's lots more options than you may think!