Greg Sherwood MW on Restless River's new releases
Tasting the New Release Ava Marie 2020 and the Main Road and Dignity Cabernet 2019...
It's been 8 years since we had our first taste of the brilliant wines of Restless River, after a tip-off from SA wine enthusiast and Michelin-star chef, Roger Jones. It's a remarkable story - how a successful graphic designer who raced motorbikes and flew helicopters around the Cape for fun on the side relocated to the beautiful Hemel-en-Aarde valley, having bought a run down sheep farm with his ex-model wife, where he went on to teach himself how to make a wine. And in just a few years, he produced a Cabernet that's been compared to Moss Wood or a top Margaux! It's even more remarkable, given that the valley is renowned for Chardonnay and Pinot Noir.
It's Craig Wessels' choice to farm and produce a Cabernet that sets them apart in the valley. Many of his neighbouring producers saw it as a rogue choice on planting, warning that the valley was too cool. Several of them even admit to having told Craig to pull out all the vines and to plant Pinot instead. And yet, he's proved them all wrong, and goodness, he's done it with aplomb!
Apart from Cabernet, Craig and his wife Anne also farm the more classic choices of Chardonnay and Pinot Noir. With 7ha of original plantings and 10ha of new plantings on mostly granite-rich, deep clay soils, the future is looking very bright indeed at Restless River.
Read on for Greg Sherwood MW's notes on their new vintage releases and buy the wines
here
.
Restless River Ava Marie Chardonnay 2020, WO Upper Hemel-en-Aarde Valley
The 2020 vintage has a little more apparent acidity than the 2019, combining the fruit and salinity with the fresh acids. The 2020 was all produced in 500 litre barrels followed by blending and ageing in stainless for 3 to 4 months, settling and stabilising on its fine lees before bottling for better integration. The wine already shows lovely Lemon butter and leesy aromatic complexity with hints of white toast, lemon rind, white citrus, melted wax and a mellow kiss of salted caramel. The palate is bright and fresh but also shows a generous mid-palate concentration and textural fleshy character. This is a fabulous terroir driven wine that is harvested over the period of a month allowing for individual parcels to be brought in to the winery to be blended into the perfect assemblage. Incredible balance and mid-palate weight make this a tantalising offering. Simply benchmark in terms of Chardonnay in South Africa. Very similar to the 2019 in many aspects with the same 'inner profile' but with a tad more acidity and minerality in the 2020. A true classic that is worthy of a place in any collector's cellar … if you can get an allocation! (10,901 bottles produced.) 13%
(Wine Safari Score: 96/100 Greg Sherwood MW)
Restless River Main Road Dignity Cabernet Sauvignon 2019, WO Upper Hemel-en-Aarde Valley
Made from 23 year old vines, yielding 2 -2.5 tons per hectare. The 2019 Cabernet Sauvignon had a very long hang time which gave it super smooth, ripe, dry fine grained tannins on the palate. Harvested from 10th March to 7th May, an almost unheard of length of picking spread for two small 1.59 hectare and 0.71 hectare vineyards, which are vinified separately by parcel within each vineyard, with each parcel matched to a different cooperage. Aged for 23 months in barrel and then almost another 24 months in bottle, the wine certainly hits the ground running in a most spectacular fashion. Such pristine purity and precision with beautiful purple and black berry fruits, creme de cassis, blue berry and an essence of watermelon making for a deliciously exotic, hedonistic wine. So incredibly lithe and fresh in the glass with tangy acids, a sleek but supremely intense concentration of blue and black berry fruits and a pronounced maritime salinity on the finish. But it's undoubtedly the 'wagyu-styled' fine tannins that are massaged to perfection with an imperceptible mineral grip and a sleek velvety texture thanks to the longer hang times. So incredibly delicious. Wow! (8,124 bottles produced.) 14%
(Wine Safari Score: 97/100 Greg Sherwood MW)
Buy the wines here. For more wine reviews, follow Greg Sherwood MW here.
Related Articles
Sadly it's not all exciting new discoveries in the wine trade. Sometimes it's some rather less fun things, like the recent duty reform brought in from 1st August 2023.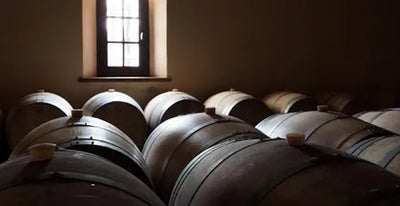 We all know oak barrels and stainless steel tanks. But when it comes to making and ageing wine, there's lots more options than you may think!