Reporting from Piedmont- a flying visit!
Robin and superstar new Swig team member Nelson Pari have just returned from a whirlwind few days in Barolo. Read on for Robin's musings on some serious producers to look out for, and some fabulous restaurant recommendations too...
I'm in love with the Nebbiolo grape all over!

Earlier this month I visited Barolo with our new colleague Nelson Pari, for whom Barolo (including the grape Nebbiolo, and the neighbouring region, Barbaresco) is a particular passion. He is one of the self-styled 'Barolo Boys' hosting chats and tastings on Barolo in person and online (we are scheduling one soon), and compiling detailed reports on vintages, comunes and crus, with a comparison and detail that no one has done before. I once was a buyer at the best known specialist Italian importer of its time, which involved regular trips to Italy, so I'm thrilled that Nelson, with his knowledge and unbridled enthusiasm for Italian wines, is joining us, to help us develop our offering. There are some superb new wines on the horizon.
We visited our old friend Renato Corino in La Morra. His 2019s are delicious. We'll be bringing some over soon. Renato served us blind a 1998 Barolo Vecchie Vigne and 1996 Barbera Vigna Pozzo. It was only 10am!  We popped into his neighbour Mauro Veglio, where we tasted through some fine 2019s.


Barolo stars of tomorrow
We met some stars of tomorrow, and hope to add some of their wines to our range. Some producers are finding a new way of making Barolo. The wines are referred to as neoclassical - a kind of return to traditional winemaking but with an understanding of bringing out the perfume of the wines with less tannins, with long maceration but very gentle extraction, and the resulting wines reflect their site and vineyard better as a result. You could say they are more like top Burgundy than ever before, but with the flavour of Nebbiolo. Exciting times and a new era.
Serralunga based Garesio, is one of them. Some stunning Barolo are coming from here, and a not to be missed soon to be shipped wine from them, a Langhe Nebbiolo made from their crus, Cerretta (shared with G Conterno whose version sells at £250 a bottle, compared with Garesio's at £75, and Altare) and the young vines of Bricco delle Viole owned by the famous Vajra, whose Barolo from this vineyard sells at £80 a bottle. We can only get 25 cases and the price is only £26 a bottle. Let us know if you'd like some. 
We gorged on local food. It was so exciting to eat here again, not having been for a few years, and to go with some local knowledge to restaurants full of wine producers where the quality is off the charts but the price is so reasonable.
L'Eremo della Gasprina in La Morra, is simple looking, set in a vineyard, with a spectacular view over the whole of Barolo. The aroma from the kitchen as I walked in was the best I've ever encountered and was coming from the light boiling and then gentle frying of animelle di vitello - a sweet bread from the thymus, with raw, new season's artichokes from Liguria. It was so, so good. We also ate the most amazing hazlenut filled pasta. Simone Burlotto is an outstanding cook. He also keeps an excellent cellar and recommended a couple of superb Langhe Nebbiolo that neither of us knew. La Morra is blessed with another excellent restaurant called More e Morcine, which is in the centre, and buzzing at lunch and in the evening, as I discovered. You can drink just wine but the food is fabulous - more casual but high quality. It's full of winemakers at all times, and wines being moved around and served blind between tables. This was fun. 
Related Articles
Sadly it's not all exciting new discoveries in the wine trade. Sometimes it's some rather less fun things, like the recent duty reform brought in from 1st August 2023.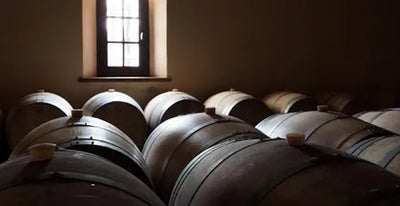 We all know oak barrels and stainless steel tanks. But when it comes to making and ageing wine, there's lots more options than you may think!